Humanity's Tactician

View? Add~ Open to all RP, just please more than one liner and be literate so we can have a good time being friends~

Male
23 years old
Grayson, Georgia
United States

Last Login:
March 17 2019



View: Albums | Blog | Layouts

Humanity's Tactician's Interests
| | |
| --- | --- |
| General | |
| Music | I found this video online when looking for Attack on Titan theme music~ I take no credit for this video, but please check out the maker of this, it's amazing! All credit goes to FrancoeurxThexFleax. |
| Groups: | |
Humanity's Tactician's Details
| | |
| --- | --- |
| Member Since: | May 12, 2017 |
Humanity's Tactician's Latest Blog Post

[Subscribe to this Blog]


Armin Arlert: (All and specific verses) (view more)


[View All Blog Posts]
Humanity's Tactician's Blurbs
About me:
Armin is rather short for his age with a small build. Armin has a round face, framed by his blond hair, with large, expressive blue-eyes and a pudgy nose.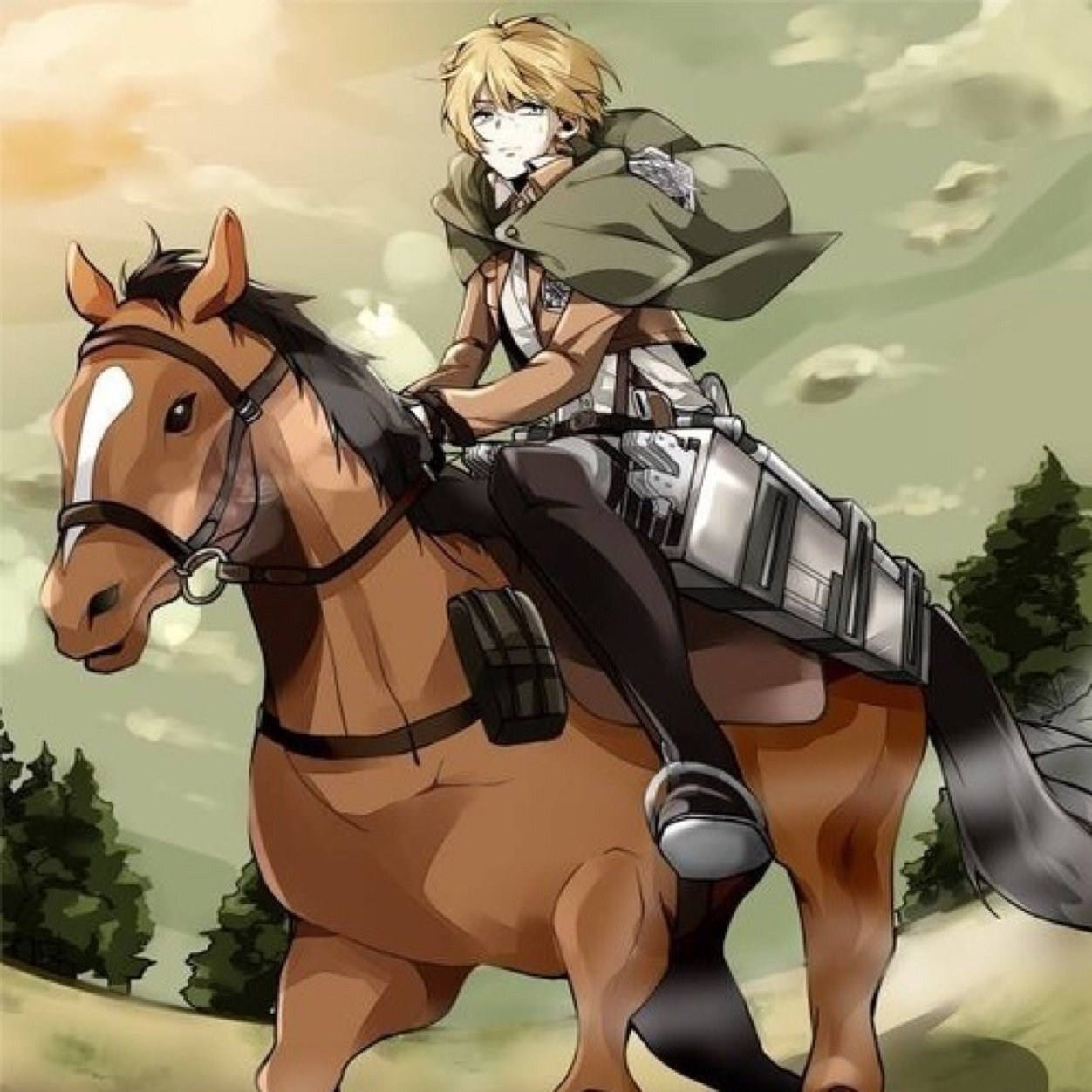 In his childhood, Armin wore a long-sleeved single-buttoned jacket with a collared shirt, long dress-pants and dress shoes. As a member of the 104th Trainees Squad, Armin wore the standard 104th Trainees Squad uniform. After graduation into the Survey Corps, he wore the standard Survey Corps uniform. Underneath his short brown jacket, he wears a white and collared button up shirt, similar to the one he worn as an adolescent. Like his fellow comrades, Armin accompanies his attire with a large green cape when participating in the 57th Expedition outside the Walls. Growing up, the naturally curious Armin had a deep fascination with the world beyond the Walls, and even enthused his best friend, Eren, into sharing this passion. Much of his free time was spent reading any book about the outside world he could find, but he would be branded a heretic for his unusual interest, and was frequently picked on. Too timid to defend himself, Armin would often need to rely on his friends to protect him from local bullies. This, coupled with his frail physique, was a source of much shame for Armin, leading him to have poor self-esteem and believe himself to be a burden upon others. Because of this, Armin was very eager to prove his worth, with his ambition being to one day stand on equal footing as his friends.
Armin is exceptionally loyal and selfless, constantly worrying for the safety of his friends, and ready to throw himself into dangerous situations for them; even offering to sacrifice himself for Mikasa. When he, Jean, and Reiner had to decide who would be left behind without a horse, Armin immediately offered himself without hesitation. And when Jean was injured in battle, Armin rushed to his aid, placing himself in danger as well. Armin is also very level-headed, keeping Eren and Mikasa under control when their emotions get the better of them. He has talked down a fight Eren started with a soldier, and restrained Mikasa from acting rashly during Eren's military trial. Although initially meek and a bit cowardly, Armin acknowledged these weaknesses, letting his potential shine brighter as he gradually gains more confidence in himself. Relieving himself of doubt, Armin has shown great investment in humanity's future, always striving for and thinking on how he can change things for the betterment of mankind. However, Armin's life has also left him considerably jaded, and he has come to believe pragmatic actions and great sacrifice are necessary for change. Armin admires strong leaders such as Darius Zackly, Ian Dietrich, and Dot Pixis for their ability to sacrifice themselves in order to put humanity further. Armin's most consistent traits remain his kind heart and keen intuition, making him often concerned with the group's morality.
Who I'd like to meet:
[Profile under reconstruction~ Will be more laid out and have more information ♥]