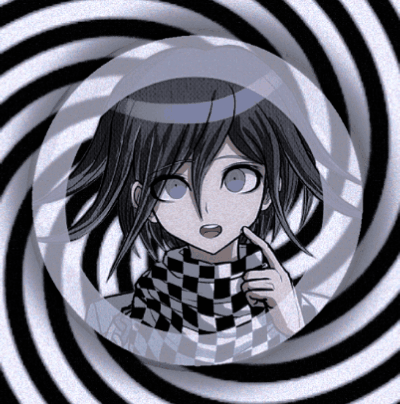 nishishi~ 王馬 小吉
うそだよ~ ! !
Pranks. Deceit. Tricks. Essentially, all the traits that make up a top-notch liar, otherwise known as Kokichi Ouma. The definition of little sh*t. He pokes at people and pushes their buttons for reactions (which, ends up poorly for him sometimes) and is generally a brat. He knows how to manipulate people and enjoys toying with them as well. Kokichi is well known for his lies left and right, so who knows what's truthful about him and what isn't. Despite this, he has some pretty obvious trust issues, and finds it difficult to get close to people, alongside getting him to open up. But, if you're lucky enough to gain his trust, no doubt he'll be clingy and annoying...but, either way, he's not afraid to push some buttons.

Ouma stands at around 5'1 and weighs 97 pounds. He is seen wearing white pants with buckles around his thighs, purple/black shoes, a white, tattered long shirt with buttons up the front and long sleeves, and his iconic checkered scarf. He has purple eyes and dark purple hair that curls at the ends as well. He's known for not being strong, however, is a very fast runner and can squirm out of sticky situations if needed.

Kokichi Oma was a normal talentless high school boy who participated in the 53rd Season of Danganronpa, a famous worldwide reality show made by Team Danganronpa. During his high school days, Kokichi attended Imperial Capital's Imperial High School (帝都大帝都高校). However, it is unclear if this memory of him was a part of the fabrication made by Team Danganronpa or if it was genuine. After he successfully participated in the 53rd Killing Game, Kokichi's memories and past were fabricated by Team Danganronpa as follows.

Kokichi's past is very unclear due to his constant lying and the fact that he strictly refuses to reveal anything personal about himself. In fact, the only thing known about his life for sure is his love of video games and that he's been playing them his whole life. However, he has also claimed that nobody would care if he was gone, and it's been implied that he has no parents or family. However, it's known that he is the leader of D.I.C.E., a small group of young pranksters, who are the most important people and like a family to him. They have traveled around the world and commit "laughable crimes" for fun, which could indicate that they could be a group of orphans with no families nor parents to hold them back. Kokichi is also good at stealing, which might be due to his past, and it has been pointed out that many of his skills have a resemblance to a petty thief.

During the killing game, Kokichi lies that he is the supreme leader of a large, evil secret society. Obviously, there is no evidence of it and the Ultimate Detective, Shuichi Saihara, does not know any organization matching with the one Kokichi mentioned. During his Free Time Event with Shuichi, Kokichi claims he became the supreme leader by murdering his parents and usurping their role. He then claims he lied, and that the one he killed was his older brother. He claims he lied again and that the real reason is a secret. Considering his tendency to have some truth among his lies, this could imply something about his past. However, it is unclear how much, if any of Kokichi's past before participating in the 53rd Killing Game was real, and which was fabricated by Team Danganronpa.